Rex Ranch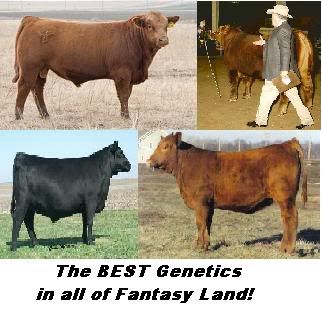 Thank you for checking us out at Rex Ranch.

Update to our Breeding Philosophy (August 25, 2018) I have been trying to develop animals with 40 day numbers of Topline 16, Hindquarter 16, Stifle 6, Capacity 14 and also have scores for bone of 12+ as well as a neck of 11+. I really like to see the stifle muscle at 6+. Some of the cattle I have recently tested indicate that it is possible to get Angus cattle to 17/17/6 on custom rations. To try and get these numbers, I am going to stop paying any respect to neck extension. I'll try to maintain 11.7+ bone. But, I really want to get 17/17/6/14 on the same animal as soon as possible and I will have to sacrifice something to make it happen. I have been selling short necks regularly, but those turned out to be some of the best cattle in the simulation.

Thank you for your work at showcattle.com!